"

The band sounds superb. I'm very impressed by the abundant musicianship. It's great to hear intricate interweaving of parts, tight unison riffs and masterful solos."
— TAXI ~ The world's leading independent A&R Company
"

Gypsy Star effortlessly blends elements of Flamenco, rock and pop and creates a Mediterranean soundscape most fitting in the broad genre of World Music."
— Radio Airplay
"

All the world's music in one band! Gypsy Star's members tour the music of multiple continents. Theirs is a tightly woven Persian rug of a performance."
— Tampa Bay Arts & Education Network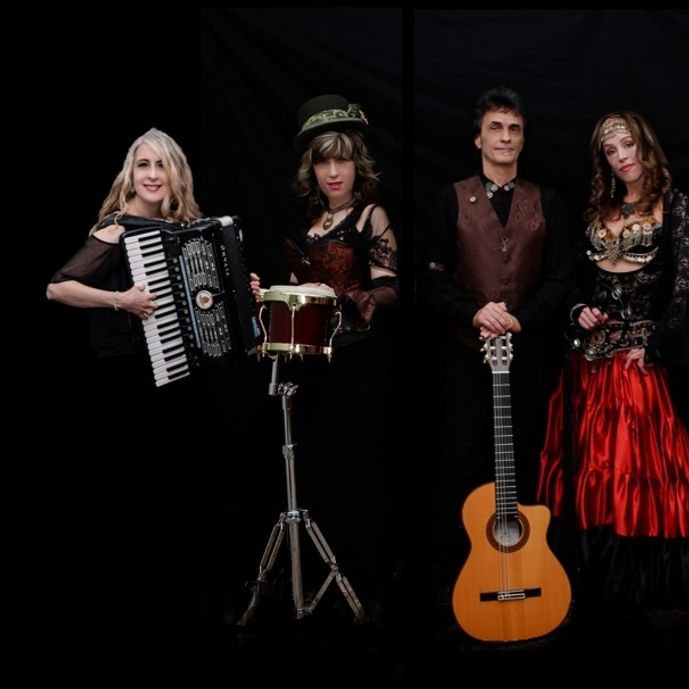 GYPSY STAR
A Dynamic band with a world beat.
Gypsy Star infuses a world music flavor into their original compositions. Their talented line-up features multi-instrumentalists performing enchanting, uplifting songs with layers of rhythmic texture, alluring, sultry vocals, lush harmonies and a fiery, gypsy-style, folkloric dancer. 
 Gypsy Star's show takes you on a musical journey around the world weaving a melodic tapestry of rock, pop, folk, jazz and classical music with the spice of Brazil, the romance of the Mediterranean, the mystique of the Middle East, the traditions of the British Isles, the passion of Spain and the Americana, Cajun and Tex/Mex sounds of the United States. Bringing their international spectrum of musical influences to each show, Gypsy Star's world-beat sound will transport you to faraway lands – awakening your soul and opening your heart to exciting, mysterious and wonderful places. 
A Gypsy Star show is a cultural feast for the eyes and ears!